Choose the #1 Provider of Dumpster Rental Lincolnton NC Can Trust
American Dumpster Co. is the area's top choice for a dumpster rental Lincolnton NC can rely on. We carry rental options that are ideal for your next garage or attic clean-out, landscaping project, or ongoing commercial waste management needs. Whatever residential or construction project you have in the works, we're confident we can help you check off your to-do list or start a new development work site with the additional support of our experienced team and durable roll off containers.
We're happy to offer delivery that covers all of Lincolnton, North Carolina, and the surrounding communities of Gaston County. Our top-rated Lincolnton, NC dumpster rental options are utilized by business owners, contractors, roofers, homeowners, property managers, and others to help complete a wide range of important projects. As a locally owned and operated business, we take a lot of pride in the service we provide the community as the area's best dumpster rental Lincolnton NC trusts to help get the job done right the first time. Our commitment to excellence shines through from our courteous, knowledgeable staff to the heavy-duty and dependable equipment we deliver.
It's important that our customers have the best dumpster rental Lincolnton NC can offer, and that's what we deliver. We have years of experience in the industry, which means we will guide you through the process, answer any questions along the way, and get you the container that you need at a time convenient for you. Upfront pricing, dependable delivery and pickup, and exceptional customer service are what you can expect from our amazing team. We're eager to prove to you that our customers come first! Reserve your roll off today by calling us at (980) 448-8125 or by using our online system to schedule your rental from the comfort of your home.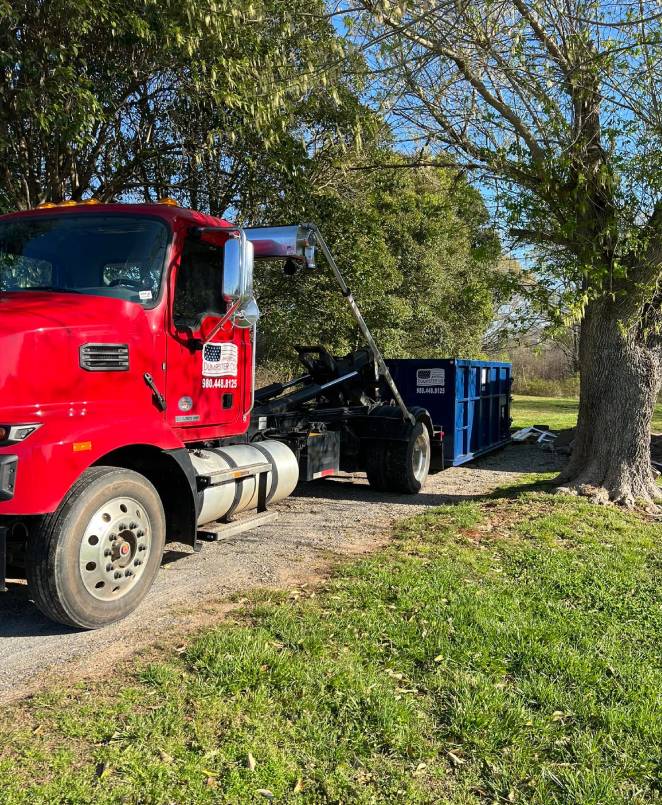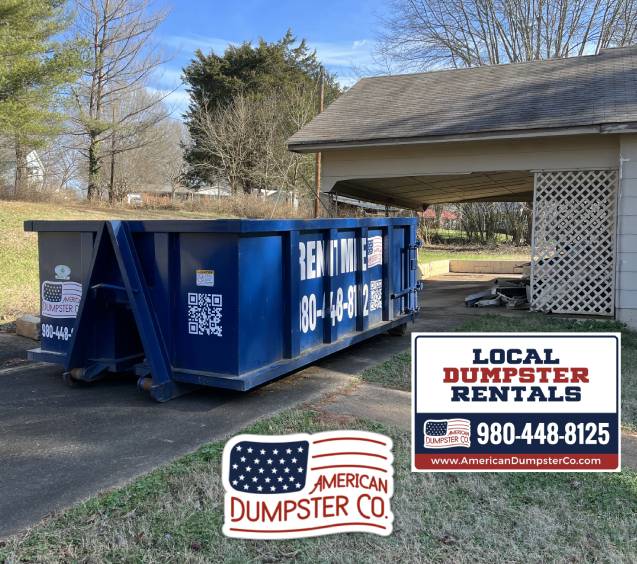 Many Convenient Uses for our Dumpster Rental in Lincolnton NC
Whether you're an area homeowner, property manager, or contractor, trust our dumpster rental in Lincolnton NC to come through for you. Order your waste management container through our easy-to-use website or call us at (980) 448-8125 to get started today. Either way, you're on track to having the best dumpster rental services Lincolnton NC can rely on to help meet your particular project goals in no time.
Business owners know that they can count on us to deliver the dumpster rental in Lincolnton NC where they need it when they need it. Contractors and businesses have a constant need for waste management, and we are the reliable source they depend on for affordable prices and worthwhile services. Choose the convenience of our small dumpster rental Lincolnton NC homeowners rely on for their cleanouts and repairs.
With container sizes from 15 yards to 30 yards, we can contain all of your debris and dispose of it properly in a safe and effective way. We have no doubts we carry the perfect dumpster rental in Lincolnton NC for your residential, commercial, or construction projects. We expertly transport the trash to the Gaston County Landfill, complying with all state and local regulations. Give us a call to get the trash and debris out of your hair today!
Contact Our Team for the #1 Waste Management Service in Crouse NC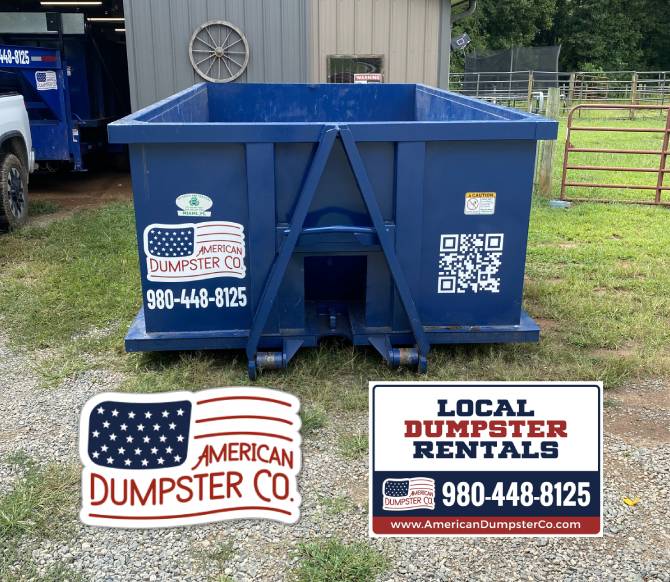 Residential Dumpster Rental Lincolnton NC Homeowners Love
As a homeowner, the need for a residential dumpster rental Lincolnton NC presents itself from time to time. Have a bin for all the trash and debris from your garage cleanout or flooring remodel conveniently placed outside your home to load on your own schedule with the help of our rental services. We regularly rent out our high-quality and durable dumpsters for basement, attic, or garage cleanouts, landscaping, roofing repairs, remodeling, renovations, appliance or furniture removal, and so much more.
Reclaim the cluttered spaces in and around your home with a residential dumpster rental Lincolnton NC homeowners rely on for effective and reasonably-priced options. Upgrade your living room and dispose of the old furniture with our expert junk disposal solution. Use our roll off containers to complete your project and improve your home by clearing out unwanted materials and trash in your life. You'll be glad you did! Give our team a call or book your rental online using our handy scheduling tool from the comfort of your own.
Best Dumpster Rental Lincolnton NC for Yard Waste
Clean up the yard and increase your curb appeal in no time with the best dumpster rental Lincolnton NC homeowners trust in the area. Yard waste can take on many forms, from garden cleanouts to wood from old decking to an old swing set. Our heavy-duty bins will contain it all so you can move on to your next home improvement project. Having an affordable dumpster rental Lincolnton NC relies on to help haul away the waste in a convenient and efficient way makes grueling yard work a lot easier.
Get yourself the best dumpster rental Lincolnton NC has to offer for your outdoor repair or landscaping needs. Improving the look of your yard, roof, deck, patio, or gazebo is a major undertaking and we'll deliver the tool that makes it possible. Throw the junk from your yard in our bin and we'll take it from there, leaving you with a clean space to improve your yard and home. Book your roll off for yard waste online today through our website!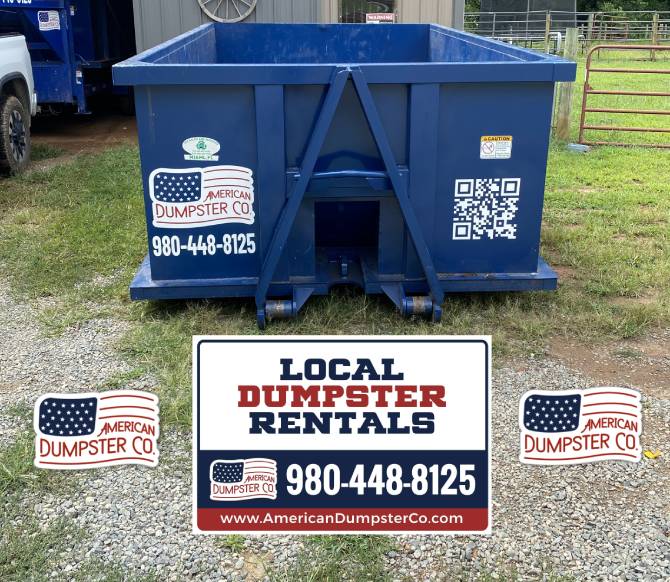 Construction Dumpster Rental Lincolnton NC Contractors Choose for Ongoing Projects
Finding a reliable construction dumpster rental Lincolnton NC contractors can count on is essential to a fully functioning and streamlined worksite. We are the go-to provider for local project managers who need heavy-duty bins that will handle all of the various debris from their construction job including lumber, plastic, shingles, drywall, and other waste.
Prompt and convenient delivery and pick up is what you can expect from our construction dumpster rental Lincolnton NC contractors regularly use for short or long-term projects. Keep your project moving forward efficiently with the added support of one of our top-quality containers. All forms of construction waste from wood to sheetrock, plastics, and metal will be kept out of the way, creating a safe work area. We are the contractor's choice for all of their waste management and have the best to offer in customer service and equipment. Call us at (980) 448-8125 for your same day dumpster rental Lincolnton NC construction professionals can't get enough of.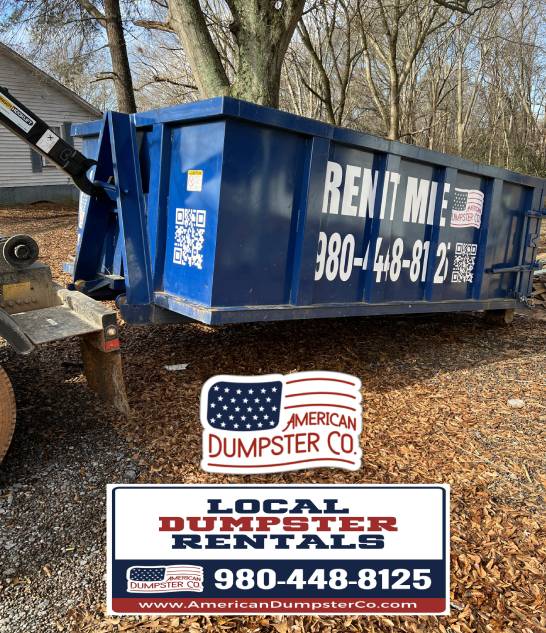 Durable Dumpster Rental Lincolnton, NC Construction Professionals Use for Roofing
Book with us for a conveniently placed dumpster rental Lincolnton, NC roofers rely on to manage the waste in a cost-effective and timely manner. Our reputation for reliability is why roofing contractors use American Dumpster Co. over the competition. We are on time every time because the success of your project is as important to us as it is to you. Whether you're repairing the roof of your own home or managing a commercial roofing build-out or replacement, we're positive we have the best selection of options for your waste hauling needs.
Containment of the waste from a roofing job is crucial to the ongoing safety standards of a worksite. One call to our friendly customer service reps and you'll have a 30 yard dumpster rental Lincolnton NC delivered to the site of your next roofing job in no time. Our durable and heavy-duty containers are fit to haul away a range of roofing waste including shingles, metal, lumber, or tile. Reserve a dumpster rental in Lincolnton, NC from our 5-star reviewed company to manage your next roofing job in a safe and structured way.
Commercial Dumpster Rental Lincolnton NC for Your Business
For commercial dumpster rental Lincolnton NC business owners rely on for their ongoing waste and trash management needs, choose American Dumpster Co. Whether you're seeking long-term waste disposal or need additional support managing a foreclosure cleanout, our selections and services will make your life and job that much easier.
Having a dependable dumpster rental company Lincolnton NC can trust is essential to the daily operations of your business. We're happy to do our part in making sure your employees, customers, guests, clients, or residents enjoy a waste-free commercial space to successfully focus on their work, enjoy their stay, or patronize your business. We are your reliable source for roll off containers with the best Lincolnton NC property dumpster rental prices in the area.
Our reputation for budget-friendly, reliable services is well known in surrounding areas. Restaurants, hotels, boutiques, office parks, apartment complexes, and retirement facilities all rely upon the service we provide, helping to keep their building and grounds clean and tidy. As a business owner, the last thing you need to overthink is trash and how to manage it, and with our experienced team working for you, you won't. Call us for your budget-friendly roll-off dumpster service today or book online!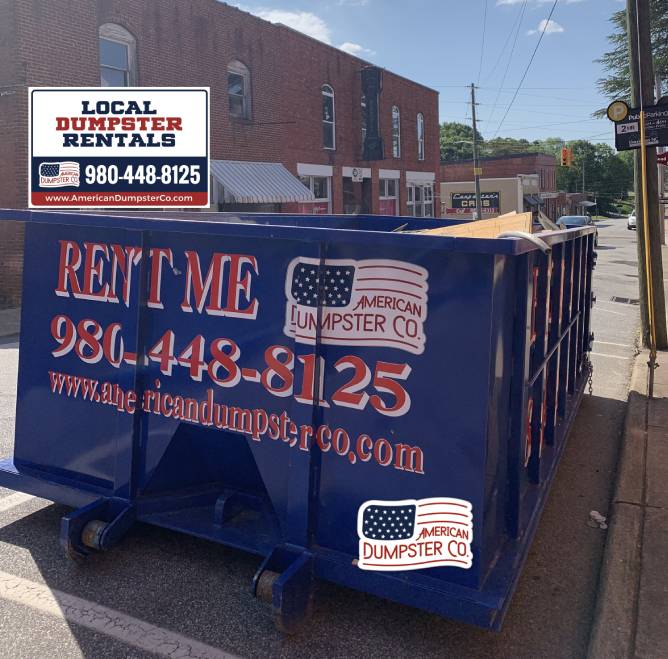 Dimensions L 14′ x W 8′ x H 4'
Dimensions L 14′ x W 8′ x H 5'
Dimensions L 20′ x W 8′ x H 6'
Book one of our dumpsters!
If you're on the hunt for the best waste management service in Crouse, NC, you're in the right place! Our helpful and experienced team is available to help make sure you have everything you need for your upcoming residential or commercial project.
We're committed to providing exceptional service and work diligently to guarantee on-time delivery and flexible scheduling for your benefit. We're confident that our selections and services will make your upcoming waste disposal project as simple and streamlined as possible.
We Take Just About Everything
Some examples of the junk we haul away include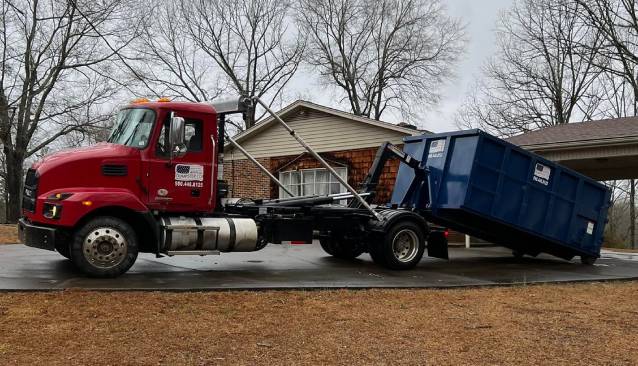 How to Book our Lincolnton NC Dumpster Rental
American Dumpster Co. has made the process of reserving a Lincolnton NC dumpster rental as easy as a few clicks. On our website, you can choose the roll off that best suits your particular project and use our online system to reserve a container for your trash and debris containment.
For your convenience, you can reserve a Lincolnton NC dumpster rental 24/7, scheduling the container when you need it and where you want it. The specifics of sizes, pricing, and length of rental are all available on our product pages so you can make an informed choice. Are you ready to schedule?
Navigate to the red "Book Now" button and get started with the following quick steps:
Enter your information and contact numbers, location and placement of the container, and any other helpful comments about your specific project goals.
Submit your payment information using our secure online system. For your convenience, we accept all major credit cards.
We will send out confirmation of the transaction via email and or text letting you know you were successful in your reservation. Our team will reach out to confirm a window of time for the delivery of the roll off.
We are available by phone at (980) 448-8125 if you're more comfortable speaking with a friendly rep about the process. Our professional team is committed to providing you with a stress-free rental experience. Let us show you why we are the #1 choice in the area for customer service and dumpster rental prices in Lincolnton NC. Call or schedule online today!
Dumpster Rental Prices Lincolnton NC and Versatile Sizes
Our selection of sizes and dumpster rental prices Lincolnton NC appreciates is the reason we are the area's go-to roll off service. We are confident that we have what you need for your home, yard, or business waste management and disposal. Take a look at our range of sizes and prices below and get in touch with our team if you need further information before booking your dumpster rental:
15 Yard: Starting at 15 yards, this size is often the go-to for local homeowners for attic and garage cleanouts as well as yard and landscaping projects. Affordably priced at $375.00 for up to seven days of rental time, we're confident this size will cover most residential projects ranging from cleanouts and furniture removal to bathroom renovations and roofing repairs.
20 Yard: This size is frequently used for bigger jobs including whole house cleanouts, hoarding situations, and remodeling of larger rooms in the home. Budget-priced at just $425.00 for an up to seven-day rental, this size will be your answer to your otherwise overwhelming trash and junk problem.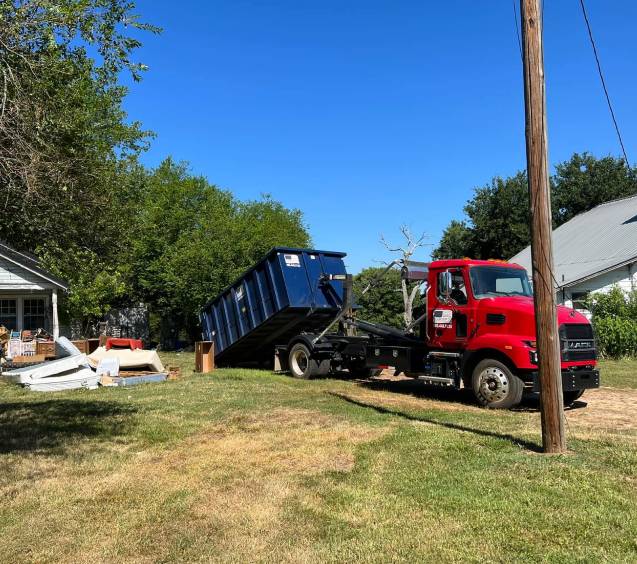 30 Yard: Our largest containers are used by contractors and business owners alike for their ongoing debris containment. Our 30 yard container will handle all of the construction and demolition debris from local contractors' work sites. This roll-off is priced at $795.00 for up to a 10-day rental period.
Rental extensions are available at just $10 per day. If you're on the hunt for a custom quote for dumpster rental prices one day Lincolnton NC can utilize for a range of projects, call us directly to discuss your options. Our dumpster rental prices Lincolnton NC are budget-friendly and upfront with no hidden fees. We are committed to your complete satisfaction with your rental experience with American Dumpster Co., after all, we want all of our customers to become happy repeat customers. Book online today or get in touch with us to learn more about our services and selections!
Have Questions About the Cheapest Dumpster Rental Lincolnton, NC? We Have Answers & High-Quality Equipment
At American Dumpster Co. we have the solution when you're looking for the cheapest dumpster rental Lincolnton NC. Cheap, or budget-friendly prices are important to our customers and we understand that. We not only provide the best prices, but combined with our professional customer service, highly trained drivers, and heavy-duty roll-offs, we are the reliable, experienced, and friendly choice for your next rental.
Our team is available to answer any questions along the way. Trust us, we've heard them all and our years of experience make renting from us easy. Take a look at some of our frequently asked questions below and get in touch with us if you need any additional information before booking your dumpster rental today.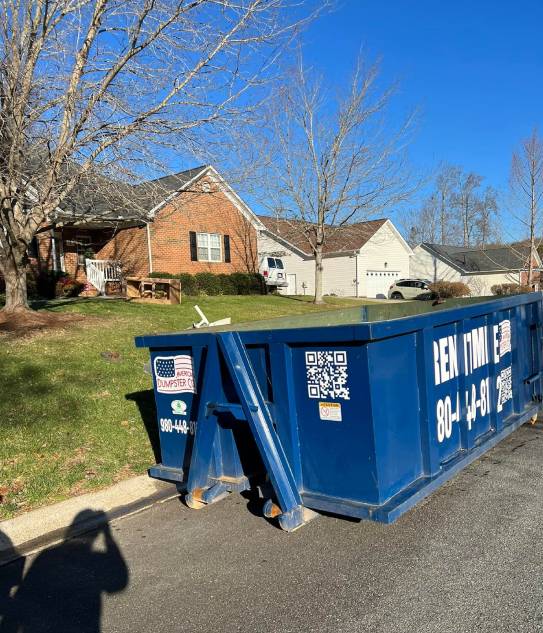 1) What type of debris can I put into the roll-off rental?
As a general rule, we take most household items, trash, garbage, appliances, furniture, and yard waste. As long as it fits, contained safely within the dumpster, it's good to go. Items that we cannot accept include any hazardous materials such as gasoline or flammable liquids, paints, medical waste, tires, batteries, or asbestos. If you have a question regarding a specific item, just call and we will clarify with you.
2) I want an affordable dumpster, but not a low-quality broken dumpster, can you help?
American Dumpster Co. is a locally owned and family-operated business and we take care of our community residents with the best options for their waste management needs. We understand many people are searching for the cheapest dumpster rental Lincolnton, but along with affordable prices, we guarantee on-time delivery and top-quality customer service. When you rent from us you have found the best pricing and service in the area, guaranteed!
3) Do I have options if I fill the dumpster before my job is finished?
No problem! This happens every once in a while, so just give us a call at (980) 448-8125 and we will promptly swap our for another dumpster, saving you from any downtime. We also make it convenient to add additional time and tonnage to your rental if you need it, just reach out we are here to help. If you have any additional questions about our dumpster rental options, feel free to reach out and we'll be happy to provide additional information about how we can make your day with the help of our professional and experienced services!
Providing Roll Off Dumpster Rental Lincolnton NC to Surrounding Areas
We proudly serve the area with the best roll off dumpster rental Lincolnton NC has to offer. We provide affordable and excellent service to Lincolnton and other parts of Lincoln County, delivering our roll offs to Denver, Iron Station, Maiden, Gastonia, Mount Holly, Bessemer City, Stanley, Kings Mountain, and Shelby. Our service area includes the following zip codes: 28092 and 28093.
Call or go online today when you're ready to book a convenient roll off dumpster rental Lincolnton NC can count on to help deliver results for a wide range of commercial, residential, or construction projects. We regularly partner with businesses, churches, contractors, school districts, hotels, restaurants, and homeowners to help manage the waste in a stress-free, cost-effective, and convenient way.
5-Star Reviews for our Budget Dumpster Rental Lincolnton NC
When you have a commitment to your customers like we do with our budget dumpster rental Lincolnton NC relies on for a range of projects, it's easy to see why we get so many 5-star reviews from our happy customers. Next time you have a project or have a need for a reliable container rental, we'll all of your waste management solutions in a timely and beneficial way.
As one of the top-rated dumpster rental companies Lincolnton NC has to offer, we take great pride in delivering exceptional results with our high-quality equipment. Whether you're downsizing to a new location, managing cleanup after an estate sale, or are ready to dive into a fun DIY home improvement project, our friendly staff is here to help. We've loved connecting with our communities by providing a top-quality service that has endless benefits, and we've earned the repeated business of hundreds of customers over the years. Take a look at what a few of our happy customers have had to say about our rental service and book your dumpster online today: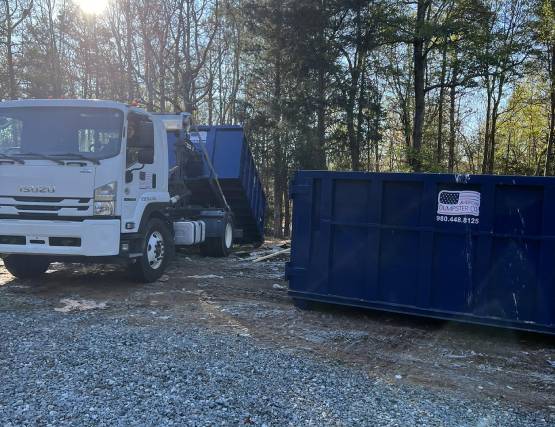 Get in touch with our team when you're ready to book your roll off!
Our Dumpster Rental Service in North Carolina